A $1.25 Million Gift Ensures Whitman Students Stand Ready to IMPRESS in the Business World
This article will link to the article in the link below. This page is not visible on the site.
Link
https://news.syr.edu/blog/2021/10/25/a-1-25-million-gift-ensures-whitman-students-stand-ready-to-impress-in-the-business-world/
Summary
Kenneth "Kenny" Goodman '70 Trustee and Whitman Advisory Council member expands Whitman School of Management's Goodman IMPRESS program to make it more accessible to students and to support a digital work environment.
Image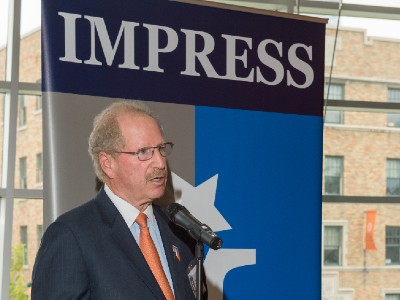 Image Alt Text: Kenny Goodman standing in front of an IMPRESS sign