Young Alumni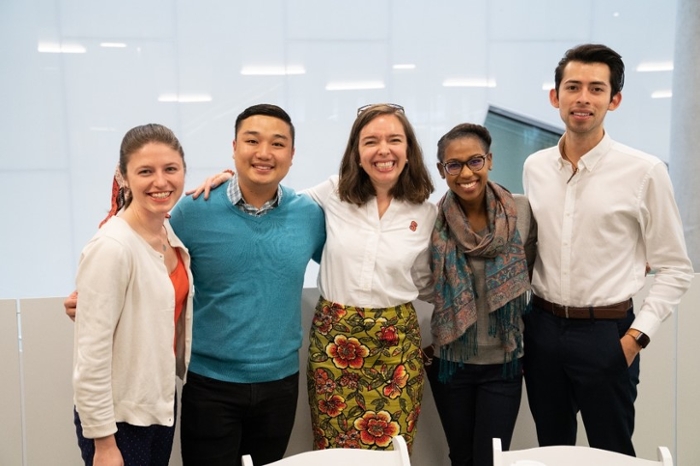 Accordion Section
The ECS Emerging Leaders Board (ELB) is a core group of committed and influential College of Engineering and Computer Science (ECS) young alumni focused on supporting the College's mission.
Through the dedication of resources, time, connections, and advocacy, ECS ELB members are called upon to advance progress toward the goals of producing cutting edge research, providing a distinctive and transformational experiential learning experience and placement opportunities for our students.
For more information, please email Jonathan Hoster at jjhoster@syr.edu.  
The Falk College Sport Management Emerging Leaders Council (ELC) exists as a core group of the Sport Management Department's most committed and influential young alumni that are focused on providing guidance in various ways to current Sport Management, Sport Analytics, and Sport Venue and Event Management students. This guidance includes staying in tune with the trends of the sport industry; assisting with capstone, practicum, and internship placements, and being strong advocates for the academic program in their community.
For more information, please contact Jeremy Losak at jmlosak@syr.edu or visit the Falk College Sport Management Emerging Leaders Council web page.
The Generation Orange Leadership Council is a group of motivated young alumni looking for ways to better engage with and serve Syracuse University's graduates of the past decade. The council strives to nurture relationships and encourage lifelong engagement among Syracuse University's young alumni through programming and communications that are uniquely tailored to their own needs and perspectives.
Visit the Generation Orange Leadership Council webpage for more information.
The MENAT region is home to 270 members of Generation Orange—alumni who graduated from Syracuse University in the past 10 years. These grads are laying their roots as young leaders and professionals, buoyed by a network of established Syracuse University alumni
For more information, please contact Sherlyn Sychua at ssychua@syr.edu or visit the Generation Orange MENAT web page.
The Newhouse Emerging Leaders is an alumni networking and mentorship group, a dedicated team of professionals from every field in the communications industry. Members, who are highly engaged and attuned to the ever-changing information technology landscape, seek to advise, connect with and inform current students and the next generation of Newhouse alumni.
On Tuesday, Feb. 5, 2019, the College of Visual and Performing Arts (VPA) held the inaugural meeting of VPA's Young Alumni Council. The council was created as a complement to the existing VPA Council and is charged with helping the college's leadership further enhance the VPA student experience.
Learn more about the VPA Young Alumni Council. 
The Young Whitman Advisory Council is a diverse group of dynamic, engaged and successful professionals who represent roles and industries across Whitman's major offerings. The primary focus of the council is to provide students with connections and opportunities to explore, prepare for and secure rewarding careers after Commencement. Members of the Council participate in and enrich all aspects of the Whitman student experience—from recruitment to full-time placement.
For more information about the Young Whitman Alumni Council, please contact Alison Kessler, Director of Alumni Engagement for the Whitman School, at ahkessle@syr.edu.
Members
Michael Gursha
Nicole Walters
Molly Fisher
Margo Konugres
Will Cass
Dan Kinney
Derrell Smith
Jake Duneier
Joshua Fishman
Devin Dadigan
Andrew Dreisiger
Kelly Ryan
Chris Grant
Daniel Folkman
Gabriel Grossman
Alec Speckhart
Megan McDermott
Oriana Fuentes
Jeffrey Grasso
Corey Passarella